VASELINE GLASS COLLECTORS, INC.
10th ANNUAL CONVENTION!
HOLIDAY INN SELECT
ORLANDO, FLORIDA
OCT. 9-11, 2008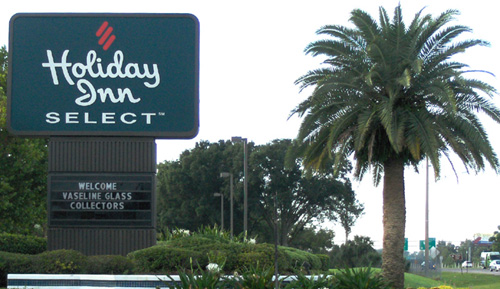 The following glass was on display at the convention.  There were 53 people in attendance.
Each photo is a clickable link that can be enlarged for a better view.
Bob Harry and Rob Leal had three different display themes.
The first three photos are of each display,
followed by some individual close-ups of various pieces of interest from their displays.
BEST VISUAL AWARD: SPRINGTIME GARDEN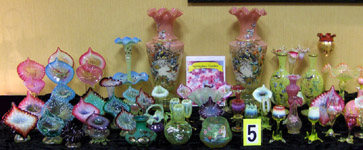 OPALESCENT TREASURES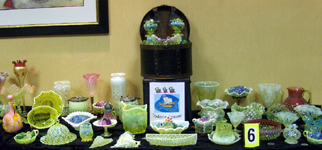 MAY I SERVE YOU? (Bread Platter display)



Opaline Brocade (Spanish Lace), vaseline opalescent with cranberry, by John Walsh Walsh, circa 1897.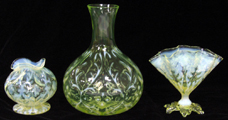 Three different Opaline Brocade pieces by John Walsh Walsh, 1897.


Three-cup table charm set, registered design for John Walsh Walsh, Rd. 409769 & 417965.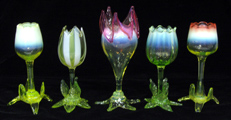 Tulip vase grouping, most likely all Richardson, England, 1880-1890's.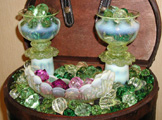 Two hand-worked opalescent vases on stands and a Burtles, Tate & Co., 'Mermaid' posey boat.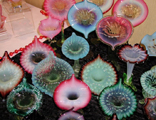 A grouping of Jack-in-the-Pulpit vases, both English and Bohemian, circa 1900s.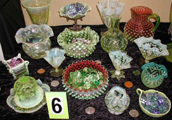 Art Glass Grouping: Northwood, Hobbs, John Walsh Walsh, Stuart, Richardson, Harrach, etc.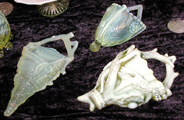 Three pressed glass wall pockets, one by Davidson (bottom right), two by Burtles, Tate & Co.


A wall-mount vase with a religious theme (opalescent cross on the side of the vase) .  Part of a matching pair.


Boulton & Mills ornamental decanter, leaf design is Rd. 22179, Feb. 2, 1885.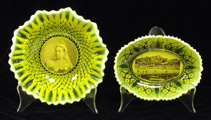 Two photo plates by Davidson.  The photos are original and are glued cardboard on reverse.
BEST THEME DISPLAY (CELEBRATING 10 YEARS)
By Dave Peterson

BEST EDUCATIONAL (CENTRAL GLASS)
By Marilyn Hallock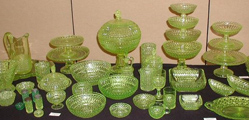 DAISY & BUTTON (variety of manufacturers)
by Nancy Haddock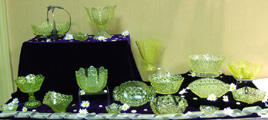 RIVERSIDE (plus two Heisey pieces)
by Bob & Mary Kreimer

"BEST SINGLE PIECE" displays
(for those who only brought one display piece)Armadillo & Lone Star Beer
(Beer bottle made by Jack Loranger in vaseline glass)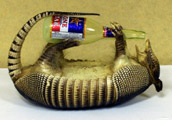 Nancy's Handmade Paperweight
(vaseline glass frit, cobalt, milk glass & controlled bubbles, made at Wheaton Village)

Bob's Decanter (BEST SINGLE PIECE)


Rob's Pairpoint comport set (with COLIAS cutting design)


10 years of Convention Souvenir pieces
(from left to right)
Gibson: Mug Toothpick holder
Gibson: Perfume Bottle
Gibson: Squat vase (marked VGCI pressed into base)
Whitehurst: witchball
Loranger: fish
Wilkerson: Paperweight
Wilkerson: Paperweight
Loranger: vase with 'floaties'
Wilkerson: cup plate with VGCI logo/name
Wilkerson: Toothpick holder, marked VGCI 1998-2008
(display courtesy of convention coordinator committee)

CONVENTION SPEAKERS:
Dean Six (Author on several books, spoke about West Virginia Glass)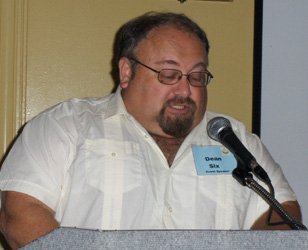 Dorothty "Dottie" Daugherty (Author: Celery Vases)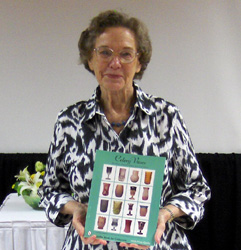 Tom Dryden (Carnival Glass)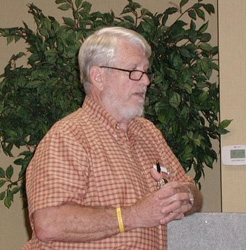 Mike Di Gennaro (Tiffin/U.S. Glass Co.)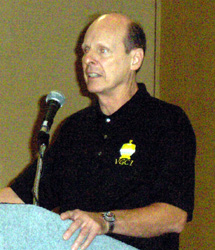 Bob Peper ("VGCI 10 YEAR RECAP")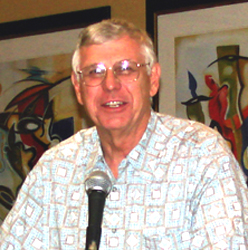 Photos by Dave Peterson, Tom Foozer, Patty Alexander.  All rights reserved, copyright 2008.  Photos are not to be used without written permission.