2014 VGCI Convention
October 9 ~ 11, 2014
16th Annual VGCI Convention
Jacksonville, FL
Here is the group with Flagler College in the background. Beautiful day!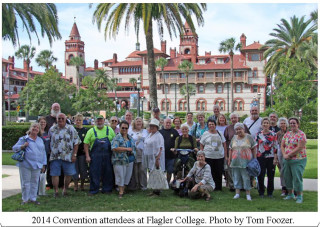 Some of our members immediately inside the door at Flagler College, ready for a tour of the college.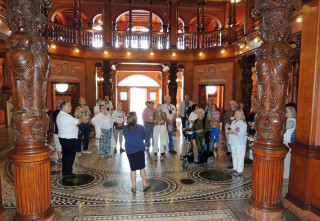 Imagine this as your lunchroom at school (Flagler College); Tiffany windows!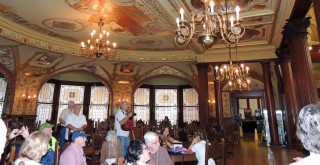 Need room to serve a large group their lunch?  No problem; drain the pool (Lightner Museum) and use that area.  No one will notice!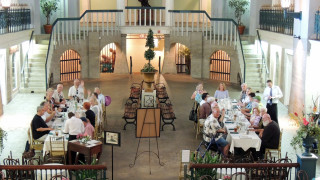 Many thanks to those folks who put so much effort into creating displays for all of us to enjoy!  It really is a sight to see!!
Awards are given each year for Most Educational, Best Theme, Best Visual and Best Single Piece.  Here are those award winners and other beautiful displays:

For the Best Theme, Nancy Haddock; Daisy & Button with "V" ornament, by A.J. Beatty & Sons.

For the Best Visual, BOB Harry & Rob Leal; Pairpoint Glass, Osiris Pattern.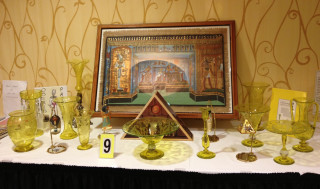 For the Most Educational, John Fiore & Michael Pierce; Dewey, by Greentown.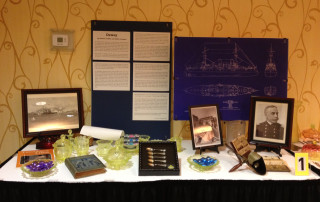 The Best Single Piece award went to Kristi Moorhouse, a beautiful Moser compote with candles. Stunning!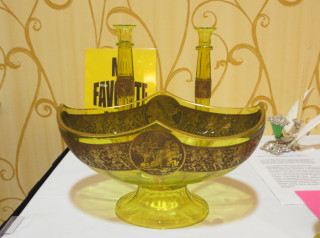 Barb & Milton Quick put up a display of "Vaseline Glass through the Decades."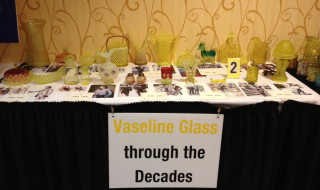 "Roses are Red, Violets are Blue…." display by first-time attendees Fran & Bob Risting.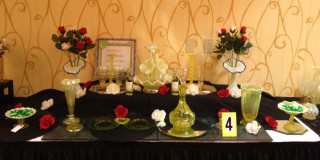 Chris Cope's collection of OPALINE BROCADE (aka: Spanish Lace) by Northwood and John Walsh Walsh.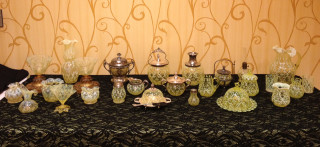 Central Glass Company Cake Plates, by Marilyn Hallock.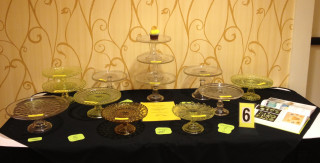 Margaret Preston's display of Baubles, Bangles & Beads, (oh my!) which she brought from England!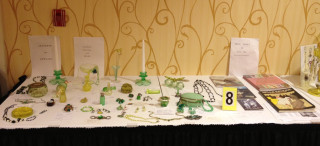 Fostoria canary glass made from 1924-1927, by Lynda Randolph. Very nice!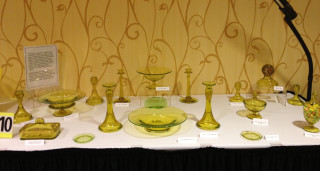 And last but certainly not least, A display of various colors used in combination with Vaseline glass, by Jim & Sherry McClung