2017 VGCI Convention
October 12 – 14, 2017
19 th Annual Convention
Elmira, NY
Here are a few pictures from the 19th annual convention held in Elmira, New York.  We visited the Corning Museum of Glass, The Rakow Research Library, Dorflinger's Museum and Factory and, drum roll please, the "largest vaseline glass collection in the world", owned by Erich & Ida Martin, Hawley, PA.
Think you'd enjoy seeing all these places and having a good time doing so?  Then join us next year in Toledo, OH, October 4 – 6, 2017 where we will take several tours there too!
Click on any of the pictures for a closer view and enjoy!!
Our theme this year was "Glass Fiesta!"  Colorful centerpieces decorated each table with a Jersey Swirl goblet for a lucky winner to take home!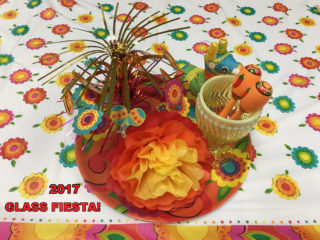 As we do each and every year, awards for displays are given in four categories.  Here are the winners this year!!