VASELINE GLASS MANUFACTURERS
Vaseline Glass was made by a variety of makers, both during the victorian times and in modern times. The following list tells something about the a few of the makers and their glassware. This list is by no means complete, but just a brief history of a few of the more popular companies to produce Vaseline Glass. We have tried to add a picture under the description of the various glass makers to show some of the patterns made. (If you have a good photo of one of the manufacturers that have no photo displayed, please send it to the email address below and we will try to add it!)
CLICK ON ANY THUMBNAILIMAGE TO SEE A LARGERPICTURE!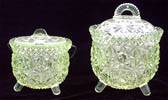 "No. 2 & No. 3 Gypsy Pots, with lids", Adams & Co., ca 1885-1895.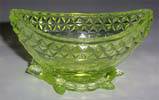 Wildflower Turtle Salt, Adams & Co., c. mid-1880's.
ABC/CLOCK child's plate in 1000 EYE pattern, Adams & Co., mid-1880's.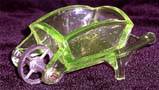 GOOD LUCK small wheelbarrow salt or match safe, Adams & Co., 1882.


A rare CHILDREN & A.B.C.D. mug in vaseline glass, Adams & Co., circa mid-1880's

Aetna: The Aetna Glass and Manufacturing Co. was founded in Bellaire, Ohio in 1880 and stopped production in 1889. they primarily produced goblets. They also had their own foundry and mold shop for producing molds for their own use and for others. The HOBNAIL IN SQUARE pattern shown here is the only known pattern made by the factory that was made in canary. The pattern was originally called No. 335 1/2 and was introduced in 1886. Metz II mentions that it was made in an open sugar, a covered sugar, spooner, covered butter, creamer, and a sauce bowl. No mention was made of a mug.
No. 335 1/2, also known as HOBNAIL IN SQUARE by Aetna Glass, introduced in 1886.
Baccarat: The name 'Baccarat' is synonymous with fine crystal. In 1843, they made their first vaseline glass, calling it cristal dichroide. It is unknown when they stopped making it, but it was not made for any extended period of time. Of the few pieces seen today, most are always marked with raised text: BACCARAT. Any piece found is generally fine crystal and will sing when flicked with a fingernail. Here is a rare open salt (or possibly a small nut dish), that is marked on the inside. Click on the small photo to see the raised lettering.

Baccarat open salt (or nut cup), 2.5" diameter X 1.75" tall, c. pre-1900.
Bayel Crystal: Bayel is known as the City of Crystal in France. Glass has been documented as being made at that location since 1666. Their glass is crystal, being 24% lead oxide or better. They are known for both clear and colored glass. Not much is known about this small statue of a parrot, other than it is marked BAYEL CRYSTAL FRANCE on the base and it is high quality glass of excellent clarity. This piece is one piece and was molded. The base of the tail is vaseline, fading to a teal color. At the point where the vaseline stops and the clear glass starts, it is a clean division with no bleed from one area to the other. The head looks like it contains vaseline glass, but that is the reflection from the tail area, reflecting internally through the glass. When the piece is turned, the yellow flashes in different parts of the body.


Bayel Crystal Parrot and Cockatoo - age unknown, but contemporary.
A.J. Beatty & Sons: This glass factory evolved out of the Steubenville Flint Glass Works, Steubenville, OH in 1863. In 1888, the company opened an additional facilitiy at Tiffin, OH, and continued to operate both factories for a while. In 1891, the company joined US Glass Co. and the Tiffin sight became known as 'factory R' and the Steubenville sight became known as 'factory S'. Three particular patterns in vaseline to look for are BEATTY SWIRL, DAISY AND BUTTON with V ORNAMENT, and OVER ALL HOBS. Here is a Over All Hobs Spooner. It has an unusual footed base that has an added sprue in-between the feet and there are also hobs on the bottom of the item.

Over All Hobs footed spooner by A.J. Beatty & Co.
Beaumont Glass Co: The Beaumont Glass Co. was located in Martins Ferry, WV, and was operated by Percy Beaumont, who was the brother-in-law of Harry Northwood and worked with Northwood. When Northwood left Martins Ferry in 1892, Beaumont stayed behind and the factory became Beaumont Glass. In 1893, Beaumont made a line of pressed glass that was referred to as "Columbia", named after the Columbian Exposition of that year. This pattern is now referred to as "Beaumont's Columbia". The original name was "No. 100 or Columbia".


"Beaumont's Columbia" tobacco jar pickle castor, ca. 1893 (with pickle jar catalog illustration as insert).

FLORA spooner, by Beaumont, circa 1898.
Bellaire Goblet Co.: This company was started in Bellaire, Ohio in 1876 and moved to Findlay, Ohio in 1888. It joined the U. S. Glass Co. combine in 1891 as Factory M. It was out of business by 1892. This rare goblet is one of the few items known to have been made by Bellaire in vaseline. They did not make any vaseline glass after moving to Findley, so this dates this piece between 1885-1888.

Paneled Rosettes Goblet, Bellaire Goblet Co., c. 1885-1888.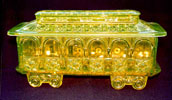 Train Cookie Jar, Bellaire Goblet Co.
Belmont Glass Co.: There is very little known about this company. They were in business from 1866-1890 in Bellaire, OH. They did make a nice item commonly referred to as Daisy & Button with Lace that has a lacy trim around the outside edge. It is also referred to as "Belmont", or "Belmont #100". This very rare cakeplate just showed up on ebay recently and was not documented in any text as existing previous to this. Known pieces before this included creamer, butter, sugar, spooner, and footed sauce bowl. The bottom photo shows the same pattern in the 10 pc. ice cream set. The center dish is for spoons. All of the pie-shaped dishes can be removed from the underplate.

Footed cakeplate by Belmont Glass Co.
Belmont #100 ice cream set.
Bohemian Glass (maker unknown): I try to attribute all glass to a particular maker, but the best I can do on this is attribute it to the Biedermeier age, which was 1840-1850.
A grouping of Bohemian goblets, made in the Biedermeier age, circa 1840.
Boston and Sandwich Glass Company: (quoted from "American Glass" by Mary Harrod Northend, published 1926) "In 1825, A Flint-Glass Manufactory was established by individual enterprise in Sandwich, Mass. Ground was broke in April, dwellings for the workmen built, and manufactory completed; and on the 4th day of July, 1825, they commenced blowing glass--three months from first breaking ground. In the following year it was purchased of the proprietor, a company formed, and incorporated under the title of Boston and Sandwich Glass Company. The HORN OF PLENTY plate shown in the first photo was offered for sale on eBay in 11/2002 for an opening bid of $1,150. Only 3 examples of this 6.25" plate are known to exist. One is in the Bennington Museum and the other one just sold at Green Valley Auctions for $1,150. (Photo courtesy of Al Warr.) Also pictured here is a perfume bottle manufactured by the Boston & Sandwich Glass Co. The perfume bottle is shown in the Barlow-Kaiser book entitled: A GUIDE TO SANDWICH GLASS, VASES, COLOGNES & STOPPERS and is identified as item #3112. It is 5.5" tall and was Blown Molded. A clear glass cologne identical to this one was dug up in almost perfect condition at the B&S site. It is so heavy that it holds very little. There are six large convex circles around the body, with six almond-shaped ovals above. The stopper has an air trap in its center, indicating that it was blown into a mold. This cologne bottle is the color that is usually referred to in old glass books as the true CANARY color. The third photo is of a pedestal master salt. One of these is in the Boston and Sandwich Museum. Barlow and Kaiser give a value to this item at $375.
HORN OF PLENTY pressed glass plate, Boston & Sandwich, c. 1850's.

Boston & Sandwich Glass Co. cologne bottle, c. 1840-1870.

PRESSED BALL AND GROOVE SALT by Boston and Sandwich
Boyd's Crystal Art Glass: Cambridge OH. One of the very few remaining companies still making vaseline glass. Established in 1978. Originally the Degenhart factory. Boyd uses some original molds and they have also purchased some older molds, like the Imperial candlewick mold pictured here.

This candlewick dish (limited to 200 pcs.) was made for VGCI.
Bryce Bros:This company was founded in 1850 and located in Mt. Pleasant, Pennsylvania. It specialized in hand blown stemware and stemware that was engraved, etched, cut, or decorated. It also had a line of baskets, vases, and accessory pieces. Bryce Bros. Co. became a part of U.S. Glass Co. in 1891, known as Factory 'B'. During sometime in the 1880's, there are references that they were in Pittsburgh, PA. This butter dish is known as 'LORNE', which is the original factory name. This was made while Bryce Bros. were Factory 'B'. The underplate is attached/molded to the base. It is a very pale yellow in natural light. The toothpick holders shown in the second photo were all made from the same mold and then the glassworker would crimp or curl the edge differently. These are the four shapes it was made in this Daisy & Button pattern. The original name was 'Fashion'. The far left one was recently named 'Fashion Fan' and was previously undocumented until an article appeared in the GLOWING REPORT, May, 2000, issue.

"LORNE" butter dish, made by Bryce Bros. Co.

"Fashion" toothpick holders by Bryce Bros., Co.
Buckeye Glass Co.:

This company was founded in 1878 in Martin's Ferry, Ohio, by wealthy capitalist, Henry Helling. John F. Miller was the Secretary before Helling purchased the factory from Excelsior (Glass)Works and changed the name. In 1887, Harry Northwood joined as General Manager. In 1888, Pattern #528 (REVERSE SWIRL) was made in a variety of shapes and colors. Later in 1888, Miller left the company, but returned in 1891, and he was known to have been at Model Flint Glass Co. in 1901. REVERSE SWIRL was made at both locations, but it is believed the lamp shown here was only made at Buckeye Glass. Because of the distinctive pattern on the clear base, this lamp is frequently referred to as SHELDON SWIRL. It is known to have been made in two sizes with this clear foot. It was also made in a finger lamp.

SHELDON SWIRL (aka, No. 528, Reverse Swirl), Buckeye Glass Co., circa 1888.
Burtles, Tate & Co.: This company was located in Manchester, England. In 1891, the company's new "Topas Opalescent" ware was described as a 'striking imitation of the old Venetina Topas'. (from The Identification of English Pressed Glass, 1842-1908, by Jenny Thompson) Thompson: "In reality, it was similar to the Davidson Pearline of 1889, although the Burtles, Tate & Co. pieces are considerably harder to find today." The elephant flower holder design was registered on 12/28/1886 as Rd. 64234. The mermaid flower trough features a motif of shells along the sides of the boat, with a mermaid masthead at each end. The sugar bowl has been given the generic name of PINWHEEL. There is no Rd. number on the sugar bowl. Other pieces known to exist by this company include a flower shoe (Rd 65455), another style of boat (Rd. 29106), wall bracket (Rd. 39807) and a swan (Rd. 20086).
Elephant flower holder (Rd. 64234
)
Mermaid flower holder (Rd. 44445)
Shoe flower vase (Rd. 65455)
Flower Trough in boat shape (Rd. 29106)
Wall bracket for flowers (Rd. 39807)
Swan flower vase (Rd. 20086)
Cambridge Glass Co.: Cambridge Glass Company started out as a factory in the National Glass combine. The combine signed a contract with the city of Cambridge, Ohio, to construct a glass factory in one year. This was in approximately 1901. In May, 1902, they started production. In 1907, National went bankrupt and local investors bought the plant from them. They became Cambridge Glass Co. in 1907 and operated until 1958. Cambridge brought 'elegance and beauty' to the masses, becoming one of the biggest producers of hand-made glass in the 1920's. They did this through an innovative national advertising campaign. They introduced color to the extent that it was the norm, rather than the exception. The Volstead Dog is one of the more famous pieces of vaseline glass produced by Cambridge. The bottle holds about 8 oz. of liquid and the shot-glass 'hat' holds barely one ounce. Everyone I have ever seen in this pattern has a ground top, which is how it must have been made from the factory. There is also a cat made like this, but it is even more rare to find in vaseline glass. The Keg decanter set is known simply as "#1 KEG" . It was made in several colors, including a blue. In vaseline, it was made in both transparent and frosted (satin) versions. Cambridge called this color TOPAZ. They also made a color with a hint of additional green (that glows), called PISTACHIO.


VOLSTEAD dog novelty flip up bedside decanter, by Cambridge Glass Co., c. 1923.


#1 KEG set in transparent vaseline with original ebony stand & underplate. It was also made in frosted vaseline.

Central Glass: 1863 to 1891. (Oesterling & Co. 1863-1867) (Central Glass Co. 1867-1891)(Central Glass Works 1895-1939). (Became Factory 'O' with US Glass in 1891-1895). The plant finally closed in 1939, with Imperial buying their molds and machinery. Specialities included stemware, novelties, lamps, and tableware. There were several items that they made in canary. The fish creamer (first photo) is extremely rare. This particular one is located in the West Virginia Glass Museum. The second photo is courtesy of Marilyn Hallock, author of the only book exclusively about Central Glass. It is a "Barrel" spooner. The very bottom photo is of the No. 764 oval flower bowl. Marilyn Hallock, stated that she has been looking for Central Glass for 10+ years and has never seen one in any color, other than a blue version in the Oglebay Museum (Wheeling, WV). The photo of the Stove castor base is courtesy of Nancy Villaverde. Four daisy and button bottles and a wire handle are needed to complete the novelty piece.

FISH creamer, Central Glass Co., c. mid-1880's.

BARREL spooner, Central Glass Co., c. mid-1880's.
Extremely rare! Oval Flower Bowl, pattern No. 764.


Stove castor base, pattern No. 822, approximately 1887.

Challinor, Taylor & Co., Ltd.: C, T & Co. was organized in 1885 in Tarentum, PA. They specialized in tableware, novelties, opal ware, opaque, and mosaic glassware. David Challinor held a patent for mosaic (marble or slag) glass. In 1981, the company joined the U.S. Glass conbine. Here is a very rare picture of a child's mug called "BIRD IN NEST WITH FLOWERS". On one side of the mug there is a bird, showing a nest with 3 eggs in it. On the other side of the mug is the same nest, but there is a bird sitting on the nest and a bird hovering nearby. The best feature of this mug is that when you look in the bottom of the cup, there is a surprise! CLICK HERE to see the surprise! Pictured below the mug is a very scarce lace edge compote.

Child's mug BIRD WITH NEST ON FLOWERS by Challinor, Taylor & Co.

Lace-edge compote by Challinor, Taylor & Co.
Cooperative Flint Glass Co.: This firm started out as the Beaver Falls Co-operative Flint Glass Co. in 1869, later changing their name (in 1889) to Co-operative Flint Glass Co. The firm operated until 1937, closing due to the economic depression. Coop Flint made tableware and novelties in canary. The pattern commonly called 'Currier & Ives' (commonly mistaken for having been made by Bellaire Goblet Co.) was actually a product of Cooperative Flint Glass Co. in the late 1880's. It was first reported to have been made in clear, amber, blue and milk glass and this misinformation continued, with authors copying the works of previous authors. Approximately 35 different pieces were made in this pattern. It is very scarce in canary/vaseline. The pattern picked up the name, 'Currier & Ives' due to the water tray. It pictures a 'balky mule' being pushed by two people. It reminded people of an old Currier & Ives print.

"No. 130 Currier and Ives cup, by Coop Flint Glass Co.
Coudersport: "Coudersport" is actually a generic term for a factory that was operated between 1900 - 1904 in Coudersport, PA. The factory had on and off production, and three different owners. The first company name was Webb Patent Tile Co./Joseph Webb Glass Company. This company was in business from 1900-1901. A newspaper account on Nov. 7, 1900 stated that an 'Endless Vine' pattern was being produced. The factory closed in May or June, 1901. In September, 1901, the factory reopened as Ladona Glass Company, making fruit jars, bottles and wide-mouthed ware. This lasted until sometime in early, 1902. In October 1903, Harry Bastow reopened the plant, under the name of Bastow Glass Company. He had previously been in charge of Jefferson Glass Co. in Steubenville, OH. Bastow advertised blown decorated glassware and novelties in a variety of colors. He was also in possession of the 'Endless Vine' molds. The presumption is made that it was Bastow who made several whimsey novelties out of the various "Endless Vine' molds in both canary opalescent and blue opalescent. The factory burned to the ground on May 8, 1904. There is about a 7 month "window of opportunity" that the TRAILING VINE ('Endless Vine') pattern was made in novelty pieces in vaseline opalescent. The mold work was done by Webb Glass, but the opalescent vaseline glass was most likely only made by Bastow (who had made it previously at Jefferson Glass Co.). This card receiver bowl was made from the sugar mold and the rim for the lid can be seen around the top outside edge.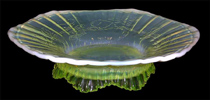 TRAILING VINE card receiver whimsey, made from a sugar base mold, circa 1904.
Geo. Davidson & Co.: (1867 to at least WWII) The primary period Vaseline glass collectors are concerned with regarding this English Pressed Glassmaker is from 1889-1908. This was probably the most prolific English (pressed) Opalescent glassmaker as far as vaseline glass collectors are concerned. Their name for Opalescent vaseline glass was called Pearline Primrose (Yellow Opalescent). For the most part, the easiest way to distinguish English pressed glass from American pressed glass is that the yellow is a much 'richer' yellow, with hardly a hint of green and the opalescent qualities of Davidson glass was a very opaque creamy color. As you can see from the picture, the opalescent treatment can only be described as "rich and creamy"! This lampshade is what has been named by collectors as 'William & Mary". The second piece shows a 'War of the Roses" boat with a vintage carriage. Some of these are found with a contemporary carriage on them, but this one is vintage and the boat cannot be removed without damage to the carriage. A recent catalog discovery by John Bell, one of our members from Great Britain, shows that Davidson at least made some Primrose Pearline in 1912, the date of the catalog. The pieces illustrated were five different sizes of shallow dishes, shaped like shells, that were used for ice cream or banana splits. The bottom photo is one of those dishes. A correction to VASELINE GLASS: CANARY TO CONTEMPORARY: color photo #260 has now been identified as made by Davidson, due to that catalog page from 1912. The bottom photo shows the SOMERSET pattern (Rd. #254027).

"William and Mary" pattern, lampshade, c. 1900 by Davidson.
War of the Roses canoe with vintage metal carriage, c. 1893 by Davidson.
"Shell" ice cream dish, illustrated in 1912 Davidson catalog


Somerset water set. LINK shows other pieces in the pattern.

Degenhart Glass Co.: (also known as the Crystal Art Glass Co.) 1947 to 1978. Mostly made small novelties. Sold to Boyd's in 1978. Here are a couple of little dogs that were made at Mosser for the Degenhart Museum. The bigger of the two has been irridized, the small has not. You can see the 'D' within the Heart emblem and then underlined on the dog's hind quarters and , which is the logo for the Degenhart Museum. The bigger dog is 1 9/16" tall and the shorter one is 1" tall. Both have a ground bottom that is unpolished. Below the pooches, there is a picture of a Degenhart Gypsy Kettle. As all molds that were owned by this company now belong to Boyd's, they continue to make it. This one, however, has the 'D' outlined by a heart. When you click on the pic, you can see this in the bottom of the kettle.
These Deganhart dogs are solid glass and named "Louise".
"Gypsy Kettle" by Degenhart Glass Co.
John Derbyshire: Derbyshire was a manufacturing firm, located in Salford, Manchester, England from approximately 1874 - the turn of the century. This photo is of a large piano or furniture coaster in the shape of a lion's paw.

Lion's Paw furniture coaster by Derbyshire, late 19th century.
Doyle & Co.: This glass house started in 1866 in Pittsburgh. They were one of the 'late-joiners' to the U. S. Glass combine, joining about 6 months after U. S. Glass was first formed. Very little vaseline glass was made by this firm. Ruth Webb Lee mentioned in her book (EAPG) that the pattern known as "Hobnail with Thumbprint Base" was made in clear, amber, and blue. It seems everyone else felt she was an authority on it, as I have checked numerous references on this pattern and not one mentions vaseline or canary being made by this company. The possibility exists that this color was made after Doyle joined U.S. Glass, as they pressed the pattern in 1893 and again in 1898.

"Hobnail with Thumbprint Base" fingerbowl, made by Doyle & Co.
"Hobnail with Thumbprint Base" salt and pepper set, made by Doyle & Co.

Dugan Glass: bought the old Northwood factory in Indiana, PA in 1892. Became Diamond Glass in 1913. Destroyed by fire 1931. This 'corn' vase in opalescent vaseline is one of their more popular pieces.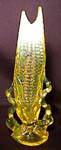 "Corn Vase" by Dugan Glass
Geo. Duncan and Sons: This factory started when George Duncan bought out his partner in the Ripley Glass Co. in 1874. Duncan's daughter, Susan, married A. H. Heisey, who later became a partner in this firm when George passed away in 1877. The factory became known as Duncan and Heisey in 1886 and joined the U. S. Glass combine in 1891. By 1892, the company was out of the combine and functioning as Geo. Duncan and Sons & Co., until 1900, when it became Duncan and Miller. Below are hat and cap novelties made by Duncan. The 'sailor cap' open salt was made from 1886-1890. It has a woven straw pattern, a ribbon around the crown and the ribbon crosses in the front and is held in place with a 5-pointed star. The sailor cap is oval shaped. The other photo shows four different Duncan hat novelty pieces. (From left to right): toothpick, spooner, open salt, smooth-brim cigarette or match holder. To find out how to tell the difference between the Duncan toothpick and the Fenton reproduction, see the March, 2000 edition of the GLOWING REPORT!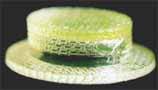 "Sailor Cap" Open Salt dish, Duncan, circa 1886

Duncan 5-bottle castor set, c. 1885 (photo courtesy Gary Wilson)
Duncan & Miller: started as Geo. Duncan & Sons, renamed to Duncan & Miller in 1900. Closed in 1955 and patterns were taken over as part of U. S. Glass -- Duncan and Miller Division. This Nautical lantern is one of their more difficult pieces to find. There were three pieces that came in this particular shape: a small cigarette container, a decanter with stopper, and this candy jar. The compote is even more difficult to find!

Nautical Candy Jar in the Sanibel pattern by Duncan & Miller.

Nautical anchor compote, one of two known to exist in vaseline opalescent!
Fedorovsk Brothers: In the Christie's Auction catalog on Russian Works of Art, dated April 18, 1996, a photo of eight of these, including underplates, were shown. The following text outlined the auction item: "Eight russina uranium glas dessert coupes and underplates. Marker's mark of the Fedorvsk Brothers Factory with impressed marks, circa 1850. Each green faceted on conforming scalloped underplates with oval cartouches: 6" high, quantity: 8. In the mid-nineteenth century, the development of uranium glass with its bright fluorescent color caused a number of large services to be created by the Imperial Glassworks, the most important having been commissioned by Emperor Nicholas I for the cottage at Peterhof. This spurred imitators, of whom the Brothers Feodorovsk were the most accomplished private factory." The pre-auction estimate for the sale at Christie's was given at $1,800 - $2,500 for the 8 dessert coupes with matching underplates. The coupe and underplate pictured here has the Russian marking on the base of the coupe. A very similar style was also made in the United States. In addition, not all of the Russian coupes have the Fedorovsk mark on the base. Both the cup and the underplate are canary flint glass.

Dessert coupe and matching underplate, Fedorovsk Brothers, Russia, c. 1850.
Fenton: First started making vaseline glass in 1930's. Hobnail pattern started in 1941. Cactus pattern (original to Greentown Glass) was re-introduced 1959. Fenton is still producing limited supplies of vaseline artglass today. This Fenton cat with attached fount shows how the figurine was originally pressed. The fount is removed before the cat is put on the market. Only 42 of these were sold through Rosso Wholesale Glass Dealers, Inc., in 2001.

Fenton "cat on fount" figurine, 2002.
Fostoria: Began in 1887 in Fostoria, OH. Moved to Moundsville, WV, in 1891. Canary was produced from 1924-1927 (American pattern is very nice!). They were also known for Heirloom from 1959-1970. Heirloom 'glows' tremendously! The plant closed in 1986. For more information about Fostoria "Heirloom", please refer to the January 1999 copy (Vol. 1, #2) of GLOWING REPORT. The pictured TABLE CHARMS set in Yellow Opalescent was only made from 1959-60 in this color. Here is a LINK on how to assemble the double TABLE CHARMS set.


Double "Table Charms" set by Fostoria
French Lacy Salt (

generic listing

): This is a type of glass, not a specific factory. French Lacy Salt was the equivelant of Lacy salts that were made by Boston and Sandwich Glass in the United States. French Lacy Salts were made from about 1825-1845, but uranium as a colorant was not utilized in glass until approximately 1840, so the window of opportunity was limited to about 5 years. This salt shown is a classic french shape, with numerous other patterns and examples known. No lacy salts made in the United States had this round bowl shape, sitting on a collar. Condition of lacy salts are measured against a different criteria than EAPG glass: The glass was very brittle, chipped easily, and frequently left the factory with damage. Several companies in France made this style, including Baccarat, St. Louis, and other lesser known companies. This particular salt sold on THE popular internet auction site for $355. It had over 500 views and a total of 23 bids.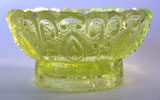 French Lacy Salt, circa 1840-1845, extremely rare in this color, maker unknown.
Gibson Glass: Charles Gibson started a small cottage industry glass shop in Milton, WV in approximately 1982. He had previously worked at Blenko Glass and also Biscoff Glass prior to starting his own shop. His specialities were paperweights, carnival glass and a line of fancy marbles. He also made some very nice vaseline glass with heavy opalescence. They made limited edition cruets, lady's spittoons and perfume bottles (usually dated). Gibson also made the first convention piece for VGCI and it was the first 'marked' piece the club had made. It was a bulbous vase made into a spittoon shape. This art glass egg-shaped paperweight is made of vaseline glass with a feathering of an opaque layer of amethyst glass. The entire piece was then iridescent carnival finish, to give it a shimmery effect. It is marked and dated on the underside: GIBSON 2001. The 10 Gallon hat was also made by Gibson. A store clerk at Gibson's factory confirmed that it was made "in the late 1990's" and "Charlie made about 2 dozen." It is unmarked and crackle glass. Detail includes a hat band. The factory closed in 2005, due to the failing health of Mr. Gibson.

Vaseline carnival egg with amethyst feathered pattern, 2001.
Unmarked Gibson "10 Gallon Hat" in crackle glass.
Gillinder & Sons: Started in 1861 in Philadelpia, PA in 1861 and moved to Greensburg, PA in 1888. They joined the US Glass Co. as 'Factory G' in 1891. This company still operates today as Gillinder Glass in Port Jervis, NY (at the crossroads where PA, NY, and NJ meet). One of their more collectable patterns was called "Leaf" by the factory, but has since become known as "Maple Leaf". Maple Leaf was made in the 1870's and the most famous piece of this set is the 'Grant Peace Plate' that has the Maple Leaf border with the image of General Grant in the center and inscribed "LET US HAVE PEACE, U.S. GRANT". The Maple Leaf pattern comes in a variety of colors and items, including full table settings. Pictured here are the 13" platter, the small open dishes (on three feet) and a large oval bowl. Gillinder continued to make glass and during the 1930's, they made the Buddha shown here. Cambridge also made one during this same time period. The Gillinder one does not have a topknot or earrings, which are present on the Cambridge version.
Partial place setting of "Maple Leaf" by Gillinder & Sons.

Gillinder BUDDHA, circa 1930's. (the stand is not part of the original Buddha)
Greener & Co. : Henry Greener was the force behind the Wear Flint Glass Works in Sunderland, Great Britian. They made a wide variety of glass goods and were direct competitors of both Davidson and Sowerby. Greener died in 1882, but his company continued under that name. In 1886, Jobling bought out the struggling company, but it continued with the Greener name and reputation to well into the 20th century. The factory subsequently changed it's name to Jobling. This rare basket with the rustic handles was made by Greener. The handles themselves give us the date, as they were a registered design on March 27, 1888. This unmarked piece was given a registration number (for the rustic handles only) of Rd. #96775.
Greener was given a registration number for these rustic twig handles on March 27, 1888. The piece is unmarked.


These two baskets were made from the same mold as the one shown above.


This pattern was registered on Sept. 3, 1997 and is marked Rd. 304505.

This pattern was registered on Oct. 31, 1907 and is Rd. 514796.


This commemorative cup and Saucer was made a month after the death of George Peabody (full story in linked photo).


Heisey: First produced vaseline 1899-1900. Tried experimental pieces about 1923-24. Very rare, very expensive. The first item pictured is called 'Pineapple and Fan', Heisey's pattern no. 1255. It is extremely rare in Vaseline and even more so to have an opalescent rim. The second photo is 'Winged Scroll' (Heisey's pattern no. 1280), also in the same category of rarity. Most Heisey experts have never seen these! My thanks to Doug Sandeman for allowing me to share these two ultra-rare items with you!

"Pineapple & Fan" Canary Opalescent, by Heisey

"Winged Scroll" Nappy, by Heisey
Hobbs, Brockunier & Co.: Formed in 1863. Located in Wheeling, WV. In 1864, William Leighton, Sr. developed and perfected a lime glass formula that could be worked in a mechanical press. Reorganized in 1888 as Hobbs Glass Co., became factory 'H' in the US Glass Co in 1891. These two glasses, originally called No. 323 Dew Drop, is now called by it's more popular name of 'Hobnail'. These two are called Rubina Verde (literally: Red Green) and Canary Opalescent. Rubina Verde differs from other ruby or cranberry glass, in that it is made from vaseline glass and stained red. Both of these have the polished 'punty' on the bottom. The rare Maltese and Ribbon celery vase at the bottom is rare in any color. It was originally called pattern "No. 102". The bottom photo shows a rare No. 1706 Dew Drop Rubina Verde Opalescent lampshade in a vintage electrified (converted from oil) lamp. The shades were made with 4" and 5" fitters. The one shown is a 5" fitter.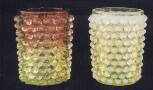 Two 'Hobnail' tumblers from Hobbs, Brockunier & Co.
A Hobbs Toy Tumbler and Toy Lemonade Pitcher. The tumblers were also sold as toothpick holders.

A Hobbs MALTESE & RIBBON celery vase in rare vaseline.


An 8" diameter POLKA DOT Rubina Verde bowl, circa 1884.


This is shape No. 1706, Dew Drop lampshade in Rubina Verde Opalescent, with vintage lamp, circa 1886.

Hoffman: Heinrich Hoffman lived from 1875-1939. At the turn of the 20th century, he had an artist's studio in Paris, where he made glass molds. The molds were then sent to Bohemia, where his wife, Josephine, was in charge of making the glass. Hoffman's trademark was a small, open-winged butterfly that is frequently (but not always) on his glass. Some of the toughest pieces of Hoffman to find are those made from vaseline glass. Some of Hoffman's molds are being used today by Desna. One in particular is the nude woman, sitting on the edge of a tub with her legs straight in front of her. The original Hoffman piece has a butterfly mark on it. The Desna piece is missing this mark. In the enlarged photo below, the butterfly is at the bottom center of the piece and has been enlarged to show detail in the right hand corner.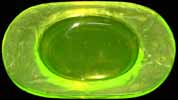 Hoffman trinket or soap dish, Art Deco Period (1920's)
Imperial Glass Co.: Their color was called 'golden green' and they were organized in Wheeling, WV, in 1901. Imperial producing glass in Bellaire, OH, in 1904. They were primarily noted for carnival and stretch glass and were one of the three main producers of stretch glass in the US. This rare covered candy dish on high standard is simply known as pattern #78. It is rarely found in vaseline glass. The bottom photo is of a mayo bowl and saucer. They were shown in a very early Imperial catalog (No. 201 - circa 1926) and that catalog mentioned that there were six dozen sets packed per barrel. This is not the same color as Imperial's post-1959 vaseline glass. The bowl and the underplate were made from the same mould and the plate was flattened while the glass was still soft. It does not fit squarely on the bottom. Imperial added a glass ladle and sold the three pieces as a Mayonnaise set. Collectors frequently refer to this pattern as "Star Spray", but it was not named this by Imperial. NOTE: Imperial was also the manufacturer of the various pieces marked MMA (Metropolitan Museum of Art) during the mid-1970's, which was giftware for MMA. Click on the bottom photo of the 'boat' to see an original ad. All pieces by MMA are marked. They made a Peacock platter, dolphin candlesticks, an open salt, this yacht, and others. The ad is courtesy of an old MMA Christmas catalog from the mid-1970's.

Imperial #78, high standard candy dish with lace trim, circa 1960's - 1970's.

"Star Spray" (OMN No. 629B) Mayonnaise set, c. 1926, Imperial Glass Co.
MMA (marked) repro of old Hobbs boat, Imperial, c. 1975
Indiana Tumbler & Goblet Co: Started in 1899, destroyed by fire 1903. More commonly known as Greentown Glass. One of their more famous pieces was the Dewey pattern. Shown here is a picture of the full-sized creamer in this pattern. One of the novelty pieces that Greentown made was this little 'dustpan'. When found, these little dustpans usually have a 'chipped' front lip or it has been ground by a repairperson. This is due to the way it was made: Two of them were in the mold, each piece facing each other at this front lip (like a open book). The glass worker would 'snap' the two pieces apart. If you find one of these, don't pass it up because of nicks on the front lip!

"Toy dustpan" by Indiana Tumbler & Goblet Co.
Jefferson Glass Co.: Founded in Steubenville, OH, in 1900. Relocated to Follansbee, WV in 1906. Also had a plant in Canada. Makers of some very nice opalescent vaseline glass. Made "Iris with Meander" pattern (see pic). For more information about Jefferson Glass Co., please refer to the January 1999 copy (Vol. 1, #2) of GLOWING REPORT. Click on the ad below to see a large grouping of this pattern.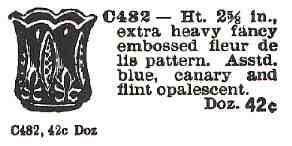 1907 ad showing Iris w/ Meander toothpick. Note price!

Swag & Brackets & Iris: the only 2 Jefferson TP's made in vaseline!
Karg: Rollin Karg is an independent, contemporary glass blower who has a studio in Kechi, Kansas. Each piece made is unique. His background includes engineer, turned photographer, turned potter, turned woodworker, turned glassblower. At a streetfair in OKC in 1999, I approached Rollin and asked him if he had ever worked with vaseline glass and he said he knew of it, but had not. I sent a piece of cullet with him and he created five paperweights, each were different. The cullet, having come from Fenton, made the vaseline stripes turn into white opalescent swirls. Under a blacklight, it glows! He also swirled in some cranberry glass into this particular paperweight. For more on marbles and paperweights, click HERE!

Rollin Karg original paperweight, 1999
Kemple Glass Works: The Kemple Glass Works was started in 1945 by John Kemple of East Palestine, Ohio and closed in 1970 when Mr. Kemple died. In 1953-54, Kemple acquired a lot of molds that had previously belonged to the McKee Glass Co. Many of these were the "-TEC" series of patterns that McKee had made. This bowl was originally called "YUTEC" by McKee. Kemple was known for making "authentic reproductions", which is a politically-correct term for 'repro'. You can see another piece in this pattern in the Glickman/Fedosky book on vaseline glass as item #411.

"Yutec" reproduction by Kemple Glass Co., c. mid 1960's.
King Glass Co. originated in Pittsburgh, PA in 1869 and in 8/1888, bought out the old McKee factory in Pittsburgh. In 8/1891, they joined the U.S. Glass Co. combine and became Factory 'K'. They continued to make glass into the 1930's before USGC phased out their site due to low profits. This salt shaker has been attributed to King Glass. This may have occurred before or during their time with USGC. It resembles an old vertical stove. It was also made in blue, amber and clear. The second photo shows the JOCKEY butter dish in a rare vaseline color. The horizontal ridges going down the front of the lid are the same design that King used for the Helmet butter. Both butter dishes also used a daisy and button pattern. No original catalog illustrations exist for the JOCKEY butter. The Helmet butter and the SPICE BARREL are both shown in an old King Glass catalog, and the notation is written that those two were made in 'flint, blue and amber'. The SPICE BARREL is shown in vaseline glass in Glickman's YELLOW-GREEN VASELINE book as color photo #63. The last photo is the No. 308 BRACKET SOAP dish, which is shown in an old King Glass Catalog. A No. 309 Slab Soap may also exist, but has not yet been photographed in vaseline glass.

King Glass Co, "stove" salt shaker, four inches tall.


JOCKEY butter, attributed to King Glass due to similarity to the HELMET butter design



NO. 308 BRACKET SOAP dish by King Glass, circa 1880's.

Jack Loranger:

Jack is a contemporary artist who runs a one-man shop in Washougal, Washington, just north of the Columbia river gorge. He is making a name for himself with the vaseline glass collectors and is willing to take on custom orders! The webmaster for VGCI recently got to visit Jack's shop and had the opportunity to blow a piece of glass! Here is a link to the whole story: CLICK HERE. Jack also has a WEBPAGE where you can see some of his items. He does not keep a lot of glass in inventory (it sells too quickly!), so if you see something you like, order it and he will get on it right away!

A grouping of glass made by Jack Loranger during the past few years.
McKee and Brothers: originated in Pittsburgh, PA, in 1853. In 1888, it moved to a Pennsylvania community which became known as Jeanette. McKee was noted for its' clocks, dispensers, lamps, and crackleglass. After several name changes, it was purchased by the Jeanette Glass Corporation in 1961. The "Queen" pattern (also known as 'pointed panel' or 'panelled daisy & button' or 'sunk') was made by McKee in 1894. The example shown is an original spooner. This pattern is being reproduced today in three items: compote, pedestal cakeplate, and covered butter (see "Mosser", listed below). The water pitcher and tumbler are also now being reproduced.
Spooner in "Queen" pattern by McKee and Brothers, 1894.
Millersburg Glass Co.: The Millersburg Glass factory was opened in 1909 by John Fenton, who had resigned from the Fenton Glass Co. to start this firm. Within 4 months, they were into financial trouble and people who supplied their molds were seeking court assistance to get their payments. By 1911, the factory was closed. They specialized in carnival glass, which was the rage of the day. Pictured below is an Acorn compote, one of only a very few known to exist (probably less than five). Bottom photo is a GRAPE LEAVES bowl in vaseline carnival glass.


"Acorn" carnival and vaseline compote, made by Millersburg Glass Co.


"Grape Leaves" carnival vaseline bowl, made by Millersburg Glass Co.

Mosser Glass, Inc.: Founded in 1964 in Cambridge, OH, and known for making reproduction and novelty pieces. Has recently come out with "Queen" pattern covered butter dish, pedestal compote and pedestal cake plate. These are not marked as reproductions. The glass is a lot brighter than the original "Queen" pattern that was quite pale, but had a terrific florescent glow to it. Shown in the photo below is one of their first ventures into opalescent glass, an acorn and leaf spooner, marketed throught Rosso.

Mosser ACORN & LEAF spooner, made in 2001.
National Glass: A conglomerate of 19 early glass factories that was formed when Wall Street started getting rough. Some of the more notable companies in this group were Indiana Tumbler (Greentown), Model Flint Glass (Albany, Indiana), McKee & Bros., Northwood Glass Works & Riverside Glass Works. The 'Wreath & Shell' pattern (shown below) was made for less than three years. This pattern was originally called 'Manila' by Model Flint Glass (also known as 'Albany Glass'). The 'Garland of Roses' dish might be the base to a butter dish. Any piece in this pattern is very scarce in canary.

Ladies Spittoon, 'WREATH & SHELL' pattern from Model Flint Glass (Nat'l Glass).

GARLAND OF ROSES dish by one of the National Glass Co. factories.
Northwood & Co.: Harry Northwood established his company in Wheeling, WV. He had previously run glass factories in Indiana, Pennsylvania, and elsewhere. As Northwood made so much vaseline glass, only very special pieces are shown here. The first listing is for the Bon-Bon in the GRAPE pattern. The GRAPE pattern is widely known in a variety of shapes for carnival glass collectors. The bon-bon was also made in vaseline opalescent (and no other opalescent color). The bon-bon was pressed on the outside with Northwood's basketweave pattern. The butter dish (below) is the "MEMPHIS" pattern (c. 1908) and is very rare in this color. The third photo is of the pattern originally called DIADEM, more popularly called "SUNBURST-ON-SHIELD." This rare platter was made by flattening out the master berry bowl. The fourth photo shows an extremely rare, possibly one-of-a-kind test piece! It is MIKADO. This pattern was only made in opalescent glass in the nappy shape. All references books only list it in the opalescent colors of flint (clear), blue and green. This is a vaseline version. Additionally, it also has a different pattern (Northwood's POPPY) pressed on the

inside

of the bowl! To make it even more unusual, the bottom foot has a full flower pressed onto the bottom! All other versions (clear, blue, green) only have a pattern on the outside of the bowl and a standard star pattern on the bottom of the foot. It was difficult to show the pattern on the inside of the bowl, so a piece of foil was rubbed over the pattern to show the relief. Dave Doty also shows this on his website as LIGHTNING FLOWER in carnival glass. The carnival glass version has the same pattern on the inside and the outside. The enlarged photo shows all of the features mentioned.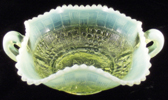 Northwood GRAPE bon-bon (aka: Grape and Cable), circa 1910-15.
MEMPHIS butter dish by Northwood.

SUNBURST-ON-SHIELD (DIADEM) whimsey platter, circa 1905.

MIKADO nappy, with internal pattern and flower pattern on base, circa 1905

O'Hara Glass Co.: The O'Hara Glass Company of Pittsburgh, PA, was another company that joined the U. S. Glass Co. combine in 1891. There are only three patterns currently known that was made by this firm: "Block & Panel," "Column Block," and "Reticulated Cord." The "Reticulated Cord" pattern is also known as "Cable" and reminds one of the lacings on an old drum. This pattern was made in a full range of dishes. It is unknown if all pieces were made in vaseline. the compote is was not previously listed in any reference book and is an unlisted shape. The COLUMN BLOCK castor set (consisting of Oil bottle with stopper, mustard, salt & pepper + frame) usually came with each piece being a different color: clear, blue, amber, and canary. This set was assembled over a period of years. A vaseline glass base is still being sought. All bottles except the oil are interchangable.

"RETICULATED CORD" compote by O'Hara Glass Co.


COLUMN BLOCK castor set in vaseline with glass amber foot and metal peg-style handle.

Pairpoint Mfg. Co.: Started in 1880 in New Bedford, Mass. Merged with Mt. Washington Glass in 1894. After several name changes and ownerships, it relocated to E. Wareham, Mass., in 1957 and became Pairpoint Glass Co., importing spanish glass. Factory was reopened in Sagamore, Mass. in 1970. Famous for the clear 'controlled bubble' ball on the pedestal base, usually with colored glass above and below. Their name for vaseline was 'canaria'. The glass is very fine art glass, hand blown, high lead content (rings when 'flicked'), and a beautifully polished pontil. One of the highest quality pieces of vaseline made and quite scarce to locate at any price. Canaria was made for only a few years in the 1920's. For more information about Pairpoint Mfg. Co., please refer to the November, 1998 copy (Vol. 1, #1) of the VGCI club newsletter.

CANARIA "Colias" cut/engraved pattern/sterling silver base, by Pairpoint.
Pilgrim Glass Corp.: This company was founded by Alfred E. Knobler in Ceredo, WV. The glass made at this factory is done in the old-fashioned way, by hand and blown. Crackle glass is a specialty of theirs. Pilgrim made some vaseline glass in the 1970's (small vases, creamers, sugars, etc.). They also made this small vaseline (with clear handle) creamer in the 'Bennington' pattern. This exact mould was used to make various colored and clear glass creamers for the Metropolitian Museum of Art. This pattern was shown as one of the offerings in their Christmas catalog for 1977 (in clear glass). The sugar bowl is in the shape of a top hat. This blown glass creamer has a pontil on the bottom. It mimics glass made by the Boston & Sandwich Glass Co. This mould has since been purchased by Gibson Glass and they are making a variety of items from the mould.

Creamer made by the Pilgrim Glass Co., c. 1970's.
Richards & Hartley: Founded in Pittsburgh, PA in 1869. Noted for pressed wares and some very nice blown glass epergnes. Became part of US Glass in 1891, closed in 1893. Richards & Hartley also made a few victorian novelties. Seen below is (original name) CAT, but more commonly known as 'Kitten on Pillow" toothpick holder. When Richards & Hartley joined U.S. Glass in 1891, production was continued for a short period of time. Original colors are clear, blue, canary, and amber. This item has been reproduced by Boyd and possibly by others (based on examples I have seen in dark green, medium blue, and a light pink). See GLOWING REPORT, vol. 1, #4 to learn about the differences. It has not yet been reported that it has been reproduced in vaseline glass. It is found frequently on internet auctions as 'otter on pillow'. The Pickle castor shown is the GRACE pattern and is illustrated in "Victorian Colored Pattern Glass, Book 5: U.S. Glass From A-Z" (Heacock/Bickenheuser) on pg. 118, plate A. The pattern was also called "ORIENTAL" by Ruth Webb Lee in "Victorian Glass". Each piece of the pattern has a different design and it is a real hodge-podge grouping. This pattern was a response by Richards & Hartley to Duncan's "JAPANESE" pattern, which is often confused with this pattern. The last photo shows a CUPID & VENUS (Original name: Pattern #500) milk pitcher.


"Kitten on Pillow" toothpick holder by Richards & Hartley.
"GRACE" pickle castor (also known as ORIENTAL), circa 1881, continued by U.S. Glass Co. after 1891


CUPID & VENUS milk pitcher, circa 1875.

W. H., B & J Richardson: This firm in the Stourbridge area of England started out as Richardson and Webb in 1825. Thomas Webb went his own way in 1836 and the firm became known by this name. They were known for fancy art glass, 'friggers' (the British term for 'whimsey'). Tulips were one of their favorite shapes and glass feet were common in this particular area of glassmaking in England. While identification can never be positive, these two posey vases are attributed to the Richardson glassworks. Note the small amount of uranium used, which was common for Richardson. These two pieces date to about 1900. The novelty Crocodile in the bottom photo was made using a hand mold. It's only intended use was as a novelty. The tail was 'pulled' while the glass was still hot. It ia about 5 inches long.


Two Posey vases attributed to Richardson, Stourbridge region of England.


Crocodile novelty, circa 1890.

Ripley & Co. (factory 'F', US Glass Co. combine: Daniel Ripley, Jr., was the son of a great glass maker and grew up in the glass business. In 1870, Ripley, Sr., passed away. In 1875, Ripley & Co. started a new factory, also in Pittsburgh, PA. Ripley was the last glass factory to succumb to the "colored glass" rage and started making colored glass in 1884. In 1891, Ripley joined U. S. Glass Co. and became their President. The central office for U. S. Glass was the Ripley factory. In 1909, Ripley resigned from U. S. Glass and started a new factory in Connellsville, PA. U. S. Glass continued to use the old Ripley factory in Pittsburgh for their central office until 1937, when they moved to Tiffin, OH. This little child's plate (7" in diameter) was useful to teach children their alphabet, roman numerals,and time. It also has a conversion on it for military time, listing the numbers 13 - 24 above the roman numerals. The child's cup and saucer was originally called "No. 175 Toy Cup and Saucer." The generic name has become "Cat on a Cushion" Toy cup and saucer. The cup is 2" tall. On the opposite side of the cat the cup shows a dog, running in a field, with a fence behind him. The center of the saucer shows a cat with its' head sticking out of the top of a tall boot. This piece is very rare in vaseline glass! Click on the small photo to see both sides of the cup and the front of the saucer.

CLOCK w/ SCALLOPED EDGE, (USGC factory 'F', Ripley), c. 1890's.
CAT ON A CUSHION toy cup and saucer, Ripley Glass, prior to 1891, and US Glass after 1891.
Riverside Glass Works: Operated in 1880 in Wellsburg, WV. Noted vaseline patterns are Petticoat, Ranson, Derby, National Star and Duchess. All five patterns were designed by Riverside, but Ranson was actually produced in vaseline by Beaumont Glass, across the river at Martins Ferry, OH. The other four were made in vaseline by Riverside at the Wellsburg location. Factory closed in 1907. Riverside's Croesus was never made in vaseline, but is being reproduced today using new molds, with the quality being less than the original pressings. For more information about Riverside Glass Works, please refer to the November, 1998 copy (Vol. 1, #1) of the VGCI club newsletter.

National Star covered sugar bowl, with Ruby casing, by Riverside Glass Co.
Rosso:Technically not glass manufacturers, but are worth mentioning here. Helen & Phil Rosso are glass wholesalers who contract with various glass companies that currently make vaseline glass (such as Fenton) and have exclusive pieces made for sole distribution by them. For example, Rosso may have an exclusive piece that comes from Fenton, complete with Fenton logos, but a collector could only buy it through Rosso's. To read an article about Rosso Wholesale Glass Dealers, Inc., that ran in the GLOWING REPORT (Vol. 1, #3), please click HERE.
Schmid Verriers at Vannes-le-Chatel:

There have been numerous pieces of vaseline glass that have been found through the years with the marking of 'SV' embossed on the piece. There has also been the speculation that these pieces were made by Vallerysthal or Portieux. Due to research done by Shirley Smith (Hen-on-Nest expert) and Siegmar Geiselberger (Pressglass-Korrespondenz), we now know that this piece was made by Schmid Verriers. The glassworks was orignally formed in 1765 by Comtess de Mazirot, and then established by the Schmid family in 1823. The Schmid family owned and operated the company until 1970., when it merged with Vallerysthal Portieux and Bayel and Fain. The company now markets their glass under the name of 'Cristal de Sevres' (Vannes French Crystal Company or initials 'CFC'). Daum incorpartes the company and is also known as DAUM-CFC. Up until 1859, wood was used to fire the furnaces. Coal was used from 1860 to 1940. From 1940-1945, there was no production, due to lack of workers, who were all in captivity, and the lack of coal, due to the war needs. The factory archives were also destroyed in 1940. From 1945-1946, Coal was used again for the furnaces. In 1946, the transition was made to natural gas and electricity. In 1979, continuous melt furnaces were introduced. In 1840, the factory employed 340 workers, and in 1960, the total work force was 680. Between 1962 and 1964, a gradual transition was made to crystal glassware. The factory is still operating today. For the original article by Shirley Smith and Siegmar Geiselberger, please click on this LINK.

'WOODEN ICE BUCKET' by Schmid Verriers at Vannes-le-Chatel, circa unknown, but before 1962.


L.E. Smith Co.: Located in Mt. Pleasant, Penn. Canary was first made in 1926. Makers of crackle glass and pattern glass. "By Cracky" was made during the depression years by this company and is a pattern glass made to resemble the old 'Tree of Life' pattern. The company continues to operate under new ownership.

"BY CRACKY" sherbet and underplate, by L. E. Smith.
Steuben Glass:

Frederick Carder started Steuben Glass in 1903, along with T. G. Hawkes. Carder was in complete control of glass formulas and designs until 1932, when the company's management went to Corning Glass Works. Carder made three shades of yellow glass that will glow: Citron, Jade Yellow, and Bristol. The first photo shows examples of all three colors. Carder also did detailed drawings of all of his designs and Steuben collectors refer to those design numbers instead of pattern names. The candlesticks shown in the bottom photo are design number 686/color citron. Design 686 was made in three heights. This is the middle size, measuring 10" in height with a 4.5" base. 99% of the glass made by Carder during this time was leaded glass (there were 2 colors that could not be made with lead oxide). All of the glass was made by hand and no mold work was used. ANY Steuben glass carries a high price tag.


Steuben vaseline glass: Bristol, Citron, Jade Yellow.

Steuben #686 candlesticks in Citron Yellow.

Stevens & Williams: Stevens & Williams of Stourbridge, England, made many types of glass, including layered, etched, cameo, and art glass, between the 1830s and 1930s. Some pieces are signed S & W. Many pieces are decorated with flowers, leaves, and other designs based on nature. One of the items that many English glass houses were known for were 'whimseys' (known in England as 'friggers'). These two terms have taken on the meaning of a glassmaker playing about with making small articles for himself on his own time. Throughout the history of glassmaking, the glassmaker has relieved the tedium of production by creating a charming variety of glass novelties. Pictured here is a bugle. It has also been referred to as a 'stick vase'. Glassmakers during the time were known for holding parades and there are numerous references of glass bugles or trumpets used in these processions due to the "sweetness and correctness of tone". This particular bugle/stick vase is attributed to Stevens & Williams. It has a beautiful bell-tone when flicked. It also shows some opalescent qualities and yes, it can function as a horn. A design that was unique to Stevens & Williams was ARBORESQUE and is a crackle effect that is internal. This style came in a lot of shapes and at least 4 different colors. This version is vaseline with blue accents and handles.

Whimsey horn attributed to Stevens & Williams. It will play, and can also be used as a bud vase!

ARBORESQUE by Stevens & Williams, circa 1930.

Summit: Founded in Akron, OH in 1972. Moved to Rootstown, OH, in 1984. Still in operation. Purchased many of its molds from the St. Clair Glass works. Has made every imaginable color combination of the "Joe St. Clair" Indian Head toothpick holder. They also makes new vaseline glass of old patterns. Summit marks some of their glass with a 'V' inside of a circle. This photo shows a glass pistol in the foreground and a double pistol with fount attached in the background. There was only 50 of these made with the fount still attached. They were sold by Rosso Wholesale Glass Dealers, Inc. All of the ones made by Summit are rough-ground where the gun butt attached to the fount. These were never made originally in vaseline glass and all found are reproductions. Over 400 of the single pistols have been sold by Rosso as of 1/2002.

Double pistols with fount attached and single pistol in foreground, Summit, 2001.
U.S. Glass: Conglomerate of 18 glass manufacturers formed in 1891. Notable companies included: Adams & Co., Bryce Bros., Geo. Duncan & Sons, Richards & Hartley, Central Glass Co., AJ Beatty & Sons, and Novelty Glass Co. Among other patterns, they made this example of "Palm Beach" pattern. The vaseline glass in the palm beach pattern is very bright, almost like the contempory glass being made today, but was made after 1906. I have not been able to discover which of the 18 factories made the "Palm Beach" pattern. This combine continued as Tiffin Glass in later years.

PALM BEACH berry bowl by U.S. Glass Co.

MEDALLION goblet, by one of the factories of U.S. GLASS CO. combine.
Vallerysthal: This is another French glass house, which has made some very nice vaseline glass around the turn of the century. This particular covered dish, called "Artichoke" is flint glass and was made between 1908-1910. It appears in a Vallerystahl text in milk glass during this time frame is about the limit of the information available. The following information comes from "Yesterday's Milk Glass Today" by Regis F Ferson & Mary F Ferson, 1981, Self Published, Pittsburgh, page 159: The Vallerysthal glass Company operated two factories in France: one at Portieux in a section known as Vosges and one at Vallerysthal in the Lorraine region. Although the firm exported glass to the United States from about 1849, milk glass in significant amounts was included in the export picture only from 1870 until the centuries old factory was destroyed in World War II. Shipments to the United states continued throughout the period between 1870 and 1914 while Vallerysthal glass works, like other concerns in Lorraine and nearby industrial centers, was under German control resulting from the Franco-Prussian War. It was not returned to France until new territorial divisions were established after World War I. While the subject is not milk glass on this resource page, it gives the reader some insight on the company.

ARTICHOKE covered sugar by Vallerysthal, in pressed flint glass, c. 1908-1910.

CRATE by Vallerysthal, with separate lid, circa early 1900's.
FLY ON WALNUT covered sugar, circa early 1900's.


SNAIL ON STRAWBERRY covered sugar, circa early 1900's.

Val St. Lambert Crystal Factory: This company was founded on the site of an old abbey/monastary in Belgium. It has been making fine crystal ever since and continues to operate today. They are famous for their "double color cut crystal," using two colors and cutting down through one layer to expose the other layer. The bottom photo shows a three piece guest set from the 1920's. It too, is made from leaded, 'crystal' glass and rings when flicked with a fingernail.
Double color cut crystal vase and perfume atomizer, unknown date.

This monsterous vase is double color cut, ruby to vaseline. The small salt gives the viewer an idea of the size.

This little dresser powder pot is part of a larger dresser set. It is double cut, ruby to vaseline. The finial is clear crystal.
This ring holder is also a part of the dresser set. The ring is a man's size 15 ring with cut vaseline glass 'diamond'
.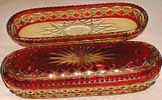 The back dish is a pin tray, the front dish is a covered tray. Both are part of the dresser set.

Three piece guest set. The pattern name for this was recently discovered: VALAMBERT
John Walsh Walsh

: John Walsh Walsh purchased a glass company in 1850 in Birmingham, England. His previous business was making soda water and one of the first registered designs made at his glass factory was a container for soda water. JWW passed away in 1864 and his will divided property between his (2nd) wife and the 6 children (3 children from each of his two marriages). In 1879, John Walsh Walsh (II), the son from his second marriage died at the age of 28, and the executors decided to sell. Ellen Eliza (daughter from first marriage) convinced her husband, Thomas Ferdinand Walker, to buy the business. Walker hired Lewis John Murray (formerly of Stourbridge and had experience with Joseph & Edward Webb's business). Murray became the manager in Sept. 1882. In November, 1897, the pattern OPALINE BROCADE was illustrated in the

POTTERY GAZETTE

. (A year later, Harry Northwood copied the design and sold it under the same name in the USA. Wm. Heacock erronously named the pattern SPANISH LACE, but the original name has surfaced from old catalogs). a design was registered on Jan. 20, 1891 for a new shaped leg for wine glasses, bent round so as to look like the stem of a flower. This was later incorporated into other designs made by the company. The WATER LILY pattern was illustrated in the POTTERY GAZETTE in August, 1903. VESTA VENETIAN was registered in March 1908, and it resembled fine, iridescent Venetian threads. The company was well known for their excellent cuttings and the company survived until 1951. (Information condensed from: THE GLASS OF JOHN WALSH WALSH 1850-1951 by Richard Dennis & Eric Reynolds, copyright 1999, published by Richard Dennis)


Twisty stem (reg. 1891) incorporated into OPALINE BROCADE (1897). click image to see 4 pieces with twisty stems.

OPALINE BROCADE, squatty vase, 6.5" diameter, 4.5" tall.
OPALINE BROCADE lampshade, 4" fitter, click image for 4 different lighting views.
VESTA VENETIAN small lampshade.

OPALINE BROCADE in a 'rubina verde opalescent' motif (courtesy Bob Harry/Robert Leal).

Just one of many shapes in the WATER LILY range, circa 1903 (courtesy Bob Harry/Robert Leal)
Thomas Webb & Sons: Webb and Sons flourished in the Stourbridge region of England, specifically Dennis Park. They were known for art glass, cameo glass, and cut crystal. The first photo shows a piece that was made AT Webb, but not BY Webb. In other words, it was made by a worker during off hours. It is a true whimsey, never being a regular production item. The craftsmanship is all Webb, with the spiral twist on the vaseline base, the "raspberry" nodules for feet and end caps, and the cranberry with opalescent threading around the neck of each posey vase. Several art glass experts have all seen this photo and concur that it could only have been made at Webb for the listed reasons, but that it was not a regular production piece and is probably a unique, 1-of-1 piece. The pieces below are called LEMONESCENT, which was Webb's trade name for a cranberry vaseline opalescent combination. Hobbs, Brockunier & Co. had a similar product, trade name: Rubina Verde Opalescent.

A trio grouping of posey vases, all sitting on a vaseline glass base. Each vase can be removed. A Unique piece!

"Lemonescent" double marmalade. The frame is contemporary, based on the design of an original single frame.


"Lemonescent" vase with cranberry internal striping. Click on the photo for additional views.


"Lemonescent" creamer and sugar with cranberry internal striping. Matches the vase above.


This was a registered design from Thomas Webbb & Sons. Generically called DRAPES. Circa 1900, made in a variety of colors & heights.
West Virginia Glass Co.: This firm had a rocky history. It started as Elson Glass Co. in 1882. It became West Virginia Glass Co. in 1893. By 1896, it was reorganized as West Virginia Glass & Mfg. In 1899, it became one of the factories of the National Glass Co. combine. By 1903, the doors were shut and all equipment removed. The building was later leased to the Fenton Bros., who first set up their glass decorating firm (before moving on to glassmaking). This celery vase shown here is part of the I.O.U. Pattern (original name: WV #219), named due to the pattern vaguely showing these three letters in the pattern. This one also has gold gilding on it. The pattern was made in 1898, just before joining National. It is scarce.
I.O.U. Pattern Celery dish with Gold Gilding, West Virginia Glass Co., 1898.
Westmoreland Glass: Westmoreland Glass made some very nice vaseline glass in their history. Although they are more famous for their milk glass, they did introduce colored glass (including vaseline) in the 1960's. L.G. Wright had a lot of glass made for him through the Westmoreland Glass Co. These two pieces can be directly attributed to Westmoreland. The vase with the dolphin feet was made in the early 1940's. The fairy lamp, with original paper label, was satinized and decorated (age presumed to be early 1960's).

Dolphin-footed vase, c. 1940's.

Satin and decorated fairy lamp, with original paper label (bottom right on foot).
Wheaton: Established in Millville, NJ, in 1888. In the 1970's, Wheatonware sold some vaseline glass through their home party plan. Kemple molds were used. Made a reproduction (but not from original mold) of the Holly toothpick holder. Greentown Glass never originally made this piece in vaseline color. Others have also made the Holly toothpick holder, but not as carefully.
Whitehurst: James Whitehurst is an independent glass blower and artist from Cusseta, GA. He recently started making vaseline glass in 2000 and has developed a following of eager customers. His work was the feature story in GLOWING REPORT (July, 2001). He sells his glass on the popular auction site under the name of blowlava.

A Whitehurst Jack-in-the-Pulpit vase, 2001

A Whitehurst Fish vaseline and cobalt goblet, standing 11 inches tall, 2001
L. G. Wright: Founded in 1930's in New Martinsville, WV. The company used a variety of factories, most notably Fenton, to manufacture glass, which it then sold. Other companies to make glass for LG Wright include Gibson, Viking, Fostoria, Imperial, Westmoreland, and Summit (all of which have made vaseline for them). This covered butter dish in the shape of a frog was made from an original mold from Bryce, Higbee & Co. that was owned by L. G. Wright. 'Red' Roetteis, who co-authored the book about L. G. Wright (and was a former salesman for the company) rented the mold the last week before the company closed and had 75 of these butter dishes made. When the assets of the company was sold off, the Milk Glass Association purchased the mold.

Contemporary 'FROG' butter dish made from an old mold.
Click here to email the Webmaster!
(Credits for photos are on the bottom of the front page)
All images copyright 2000 - 2004 and cannot be used without written permission from VGCI.